Workshop participants DO NOT pay for a separate Festival pass.
Marios Stylianou – 3hour long workshop
Workshop Fee: €25

Marios Stylianou is a Producer/Director of TV commercials. He studied Photographic Engineering at the University of Applied Sciences in Cologne, Germany. He chose "The TV and Cinema Advertisement" as the theme of his final dissertation.
In 1988 he founded MS Viewpoint, a production/postproduction company based in Nicosia, specialising in the production of TV Commercials. He has produced and directed over 1,200 TV Commercials during the last 25 years for the Cyprus market as well as for countries in Europe and the Middle East. Seven of the commercials he directed were selected among the finalists at "The London International Advertising Awards" and another three where selected among the finalists at "The Ermis Awards" in Greece.
He is teaching "The production of TV Commercials" at the University of Nicosia and he organises and teaches photography workshops for adults and teenagers.
Title: TV commercials: Storytelling in 30 seconds
Basic tricks and tips when producing / directing a TV Commercial; from the concept / storyboard to the visualisation of the advertisement. Editing of material shot during the production of a local TV commercial and demonstration of various ways of telling the same story in 30 seconds.
Participants will edit their own version of a 30 second TV commercial with the footage provided by the director. The software i-movie will be used.
Nearchos Konstantinou – 3hour long workshop
Workshop Fee: €25

Nearchos Konstantinou is a 3D Animator, a Motion Designer/ Compositor, an Illustrator and a Concept artist. He holds a Bachelor of Fine Arts degree in Computer Graphics Concentration and a Masters Degree in Communication Arts with Distinction from the New York Institute of Technology.
Since 2005, he has been working as a Senior Motion Designer in the Post-Production Department of Lumiere TV Public Company Ltd. His main responsibilities include supervising a team of Motion Designers for designing and promoting the "on-air" look of LTV. He has been responsible for the creation of numerous TV commercials for well-known brands in the Cyprus Market.
He has been also working as a Seminar Instructor since 2008, teaching Concept Design, Visual Development, 3D Animation, Motion Graphics, Video Editing and Book Illustration. He is a well experienced freelancer, mainly focusing on projects such as Concept design, Visual Development, 3D modelling and animation, Motion Graphics, Visual Effects, children's books and magazine illustrations.
He has participated in several Art, Motion and Comic Book Festivals in Cyprus and Greece, including the 1st IMF – 2012.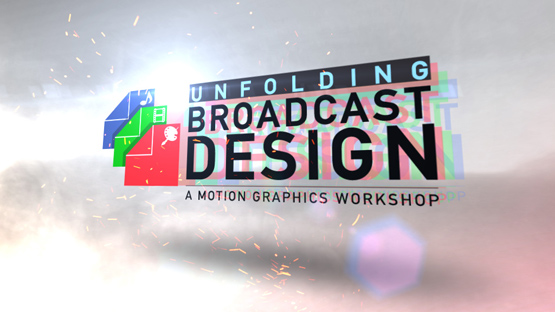 Title: Unfolding Broadcast Design: From initial concept to final branding
In the past, broadcast design was very conservative at large TV networks, but this is changing very rapidly. Nowadays, as our hyper consumer society becomes more design literate, TV channels and networks have been expanding the creativity and quality of their on-air branding look up to the next level.
In this 3-hour long workshop, all participants will learn key techniques and secret tips that will help them understand and build cutting-edge broadcast graphics and pitch a short story via storyboards with huge impact to the viewer. At first, they will learn the fundamentals and meaning of Broadcast Design in the entertainment industry and then, they will have the opportunity to create from scratch a clean and elegant graphic package for broadcasting by binding together motion graphics, visual effects, 3D elements, music, sound effects and live footage.
Attendees must have a basic understanding of Adobe After Effects and Adobe Premiere.
Each participant is requested to bring along an external hard drive (ex. usb stick) or a CD/DVD in order to take the finished product with them.
Tasos Anastasiades / Yianna Christophorou – 4hour long workshop for high school students
Workshop Fee: Scholarship
Tasos Anastasiades holds a BA in Graphic and Advertising design and a Masters Degree in Visual communication. In 2000 he started teaching in various private Art Schools and He also founded his own art school, I.T.OMIC Art Studio. Since 2004 he has been employed by the Cyprus College – European University Cyprus, teaching Graphic Design. As a Visual Artist and Designer, he has worked with many advertising agencies and has undertaken many graphic design commissions.
His Creative Designs involve the exploration of experimental graphic design techniques, illustration, image manipulation, comic book designs and 3d digital modeling. In 2004 he started publishing the "Plastic Comics" magazine, the first comic book created and published by a Greek-Cypriot in Cyprus. Ever since his work has been published and reviewed in many magazines and websites in Cyprus, Greece, Europe and the USA. In 2006 and 2009, he won Distinctions for young artist in the Annual Greek Comic Book Competitions in Greece organized by the magazine "9" of the Greek newspaper Eleutherotypia and Akto Art & Design University. Recently, his visual work was presented at the official European World of Warcraft website gallery.
Yianna Christophorou is a graphic designer who studied Visual Communication at Middlesex University and went on to gain an MA in Graphic Arts and Typography at the London College of Communication, University of Arts, London. Since 2006, Yianna Christophorou has been a Lecturer in Graphic Design at the European University Cyprus and is also a practicing freelance graphic designer. Her work includes the design of book covers, posters, logotypes, advertisements and the construction of corporate imagery. Some of her clients are organizations such as UNDP ACT, Cyprus Network for Youth Development and Volunteer Doctors (Cyprus).
She has exhibited in various exhibitions including Upper & Lower Street Galleries and Candid Arts Gallery in London, and in Cyprus at Famagusta Gate and Kasteliotisa. She participated at the 2nd and 4th Annual Exhibition of Young Cypriot Artists organised by the Chamber of Fine Arts. Yianna was also one of the 32 Cypriot graphic designers that were invited to contribute to the show "32 Posters Against Poverty and Social Exclusion' organized by the Cyprus University of Technology and the NGO, Culture in Action.
In 2010, Yianna has participated at the 2nd X-dream Art Festival organized by ARTos Foundation, with the group art intervention titled 'Systematically Arranged' that took place at the Cyprus Library.
Title: 3D Figures
Entrance Free, the seats are limited. Reserve your Place Early.
The objective of this workshop is to engage students in the construction of 3d characters from wire, combined with different materials such as paper. These characters will have a height of about 14 cm, and the participants will give them life by means of Stop Motion techniques.
The aim is to give the participants the opportunity to create their own three-dimensional fictional characters and in doing so to discover their own creativity through the Euclidean space. The end result will be a short video comprising all the students' work.
Requirements for this workshop: Senior high school students with an aptitude for the Arts.

Workshop participants DO NOT pay for a separate Festival pass.