Demetra Englezou – Founder & Festival Director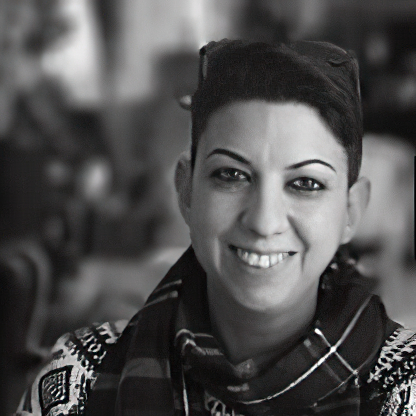 Demetra Englezou holds a Master's degree in Computer Animation from the National Center of Computer Animation at Bournemouth University 2001 and a B.A in Graphic Design from the University of the West of England Bristol in 2000. She has worked in Broadcasting and Satellite Companies since 2004. She has created a large number of animated short films and Motion Graphics and participated in International film festivals, exhibitions and art projects including the International Panorama of Independent Film and Video Makers (Patras), International Short Film Festival in Drama 2008, 2nd Moving Frames International Festival 2010, 2nd X-dream Art Festival 2010 and the 6th Animafest – Athens International Animated Film Festival 2011.
As a 3d Animator she has produced 3d television ads for major companies including Vodafone, Cyta, Honda, Hellenic Bank, Bank of Cyprus, Porsche, B.M.W etc. Demetra Englezou has received the first Pancyprian Award for the Logo design competition for the Office of the Cyprus Telecommunication Controller Officer OCECPR 2004. She is an instructor at the Department of Arts at the European University Cyprus. Her research interests are based on the Motion Graphics & Broadcast Design as well as 3d Computer Animation.
Nora Hadjisotiriou – Vice Director


Nora Hadjisotiriou is a Marketing and PR Consultant. With her company Atlantis Productions they have organised / produced amongst others the opera production Caterina Cornaro (2004) and were the leaders of the European Culture Programme 2007 – 2013 , Triptych: Poetry – identity – Coexistence (2009 – 2010) with 6 events in 4 countries.
Dr. Sophia Hadjipapa-Gee – Artistic Director


Sophia Hadjipapa-Gee, is an artist and academic, living in Cyprus. Sophia is Associate Professor and a board member of the Research laboratory "Cultural Studies and Contemporary Arts". She is also one of the founding members of the International Motion Festival and has been serving at its board from various positions. Currently she is coordinator of Workshops and the Single Channel Award Committee. She has a BA in Painting from the National Academy of Arts of Sofia, where she also completed an MA degree, in Painting and a PhD in Art History and Theory. Besides painting she has worked on video art, interventions in Public spaces, participatory projects, illustrations of poems, covers of books and has been involved in Public art, which works have been presented in numerous international festivals and exhibitions.
Sophia Hadjipapa has been coordinating the International Painting and Sculpture Symposium in Samokov Bulgaria, since 2016. She also co-curated The International Urban Emptiness Nicosia Festival, 10-16 December 2017, Nicosia, Cyprus. She has served in various professional bodies including sitting on the committees for the Selection of Works and Artists for Biennales and serving as academic expert on the committee for composing the New National Curricula in Art, of the Cyprus Ministry of Education and Culture.
Dr. Elena Stylianou


Dr. Elena Stylianou is a Lecturer in Art History at the Department of Arts. She previously worked as a research postdoctoral fellow at the University of London, Institute of Education (UK) (2007-2009) investigating the relationship between technology and museums. She holds a Doctorate from Teachers, College, Columbia University, New York with specialization in Art Theory and Aesthetics (2004-2007), and a Masters from Teachers College, Columbia University, New York in Art and Museum Studies (2002-2004).
She taught in a number of well-known museums in New York, such as the Museum of Modern Art, the Museum of Arts and Design and the Museum of the City of New York. She is a recipient of numerous fellowships and awards including a Fulbright Scholarship, a Spencer Fellowship, US, the Enid W. Morse Fellowship for Teaching in the Arts, US, and an Art Table Museum Fellowship, US.
Her research interests include a philosophical and historical investigation of the virtual, historical uses of technology in museums, and contemporary artists' engagement with technology.
Graham Elliott


Graham Elliott is an award winning designer/filmmaker who has worked in nearly all areas of commercial art for the past 25 years. Whether directing music videos for Puffy in Japan, television promos for ¬Nickelodeon across 8 countries or a Coca-Cola commercial shot in the backstreets of his native, Manchester, England, Elliott brings his own brand of visual storytelling to the screen.
An early ambition to become a pilot led him to win a scholarship with the Royal Air Force. But after learning to fly he decided to pursue his second passion and went to art school. Graduating from London's Royal College of Art, he illustrated for publications such as the London Times and the New York Times. He worked as a creative at Saatchi and Saatchi and other advertising agencies. While designing the covers for rock band Living Colour he got the opportunity to direct his first music video, Glamour Boys.
In recent years he has started to embrace documentary filmmaking and his latest film 'New York in Motion' is an exhilarating expose of the ubiquitous, yet hidden art of motion graphics. It was on a festival run in a dozen countries worldwide, including IDFA, Amsterdam. The film made it's Mediterranean premiere here at International Motion Festival 2012 in Cyprus.
Dr. Evis Sammoutis


Dr. Evis Sammoutis is Assistant Professor of Music at the European University Cyprus and the Artistic Director of the Pharos Arts Foundation International Contemporary Music Festival. He also taught composition, orchestration and guitar performance at York, Nottingham and Hull Universities. His works often explore in a creative manner the relationship between harmony and timbre. Sammoutis holds a PhD in Music Composition from the University of York where he studied with Thomas Simaku with additional studies as a Fellow at IRCAM, Darmstadt, Voix Nouvelles and Tanglewood.
His works have been commissioned by festivals and organizations such as the Venice Biennale, Klangspuren, Royaumont and ARD and performed in more than 35 countries at venues and festivals such as the Purcell Room, Konzerthaus Berlin, MusicNOW, Gaudeamus Music Week, BachFest in Leipzig, Transart and the ISCM Festivals.
His works have been broadcast on many international radio stations such as BBC Radio 3 (UK), SWR2, Deutsche Welle and ARD (Germany), Rai 3 (Italy), RTP (Portugal) and KBS1 (South Korea). Performers include the Ensemble Modern, Les Percussions de Strasbourg, the London Symphony Orchestra, Irvine Arditti and Rohan de Saram, and conductors include Frank Ollu, Elgar Howarth, Kasper de Roo and Christoph Poppen. Sammoutis has been awarded prizes at many competitions, including the Royal Philharmonic Society Award, the 5th Jurgenson International Competition, the Irino Prize, the Andres Segovia Prize, the 5th Concours Dutilleux and the Franz Liszt. Scholarship and he spent the 2009 fall semester at Boston University as a Fulbright Scholar of Advanced Research.
Tasos Anastasiades

Tasos Anastasiades holds a BA in Graphic and Advertising design and a Masters Degree in Visual communication. In 2000 he started teaching in various private Art Schools and He also founded his own art school, I.T.OMIC Art Studio. Since 2004 he has been employed by the Cyprus College – European University Cyprus, teaching Graphic Design. As a Visual Artist and Designer, he has worked with many advertising agencies and has undertaken many graphic design commissions.
His Creative Designs involve the exploration of experimental graphic design techniques, illustration, image manipulation, comic book designs and 3d digital modeling. In 2004 he started publishing the "Plastic Comics" magazine, the first comic book created and published by a Greek-Cypriot in Cyprus. Ever since his work has been published and reviewed in many magazines and websites in Cyprus, Greece, Europe and the USA. In 2006 and 2009, he won Distinctions for young artist in the Annual Greek Comic Book Competitions in Greece organized by the magazine "9" of the Greek newspaper Eleutherotypia and Akto Art & Design University. Recently, his visual work was presented at the official European World of Warcraft website gallery.
Yianna Christophorou

Yianna Christophorou is a graphic designer who studied Visual Communication at Middlesex University and went on to gain an MA in Graphic Arts and Typography at the London College of Communication, University of Arts, London. Since 2006, Yianna Christophorou has been a Lecturer in Graphic Design at the European University Cyprus and is also a practicing freelance graphic designer. Her work includes the design of book covers, posters, logotypes, advertisements and the construction of corporate imagery. Some of her clients are organizations such as UNDP ACT, Cyprus Network for Youth Development and Volunteer Doctors (Cyprus).
She has exhibited in various exhibitions including Upper & Lower Street Galleries and Candid Arts Gallery in London, and in Cyprus at Famagusta Gate and Kasteliotisa. She participated at the 2nd and 4th Annual Exhibition of Young Cypriot Artists organised by the Chamber of Fine Arts. Yianna was also one of the 32 Cypriot graphic designers that were invited to contribute to the show "32 Posters Against Poverty and Social Exclusion' organized by the Cyprus University of Technology and the NGO, Culture in Action.
In 2010, Yianna has participated at the 2nd X-dream Art Festival organized by ARTos Foundation, with the group art intervention titled 'Systematically Arranged' that took place at the Cyprus Library.