ShortShorts 2012
Mining the diamond in the rough in the world of short films… Short films are an established art form, the "first step" to realising the dreams of young filmmakers around the world.
This festival was inaugurated in Tokyo's Harajuku district in 1999in order to introduce this new and exciting form of moving image to Japan.

In 2004 the festival was officially accredited by the Academy Awards®, making the festival Grand Prix winner eligible for nomination in the Short Film Category of the Annual Academy Awards®.
For 2012, the festival received more than 4,400 entries from all over the world. Eighty films were selected from 27 countries/regions to be screened at official competitions.

CologneOFF 2013 Cyprus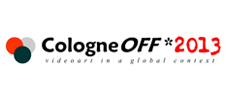 animateCOLOGNE – Cologne Art & Animation Festival @ 2nd International Motion Festival Nicosia/Cyprus  – March 2013
The Best of animateCOLOGNE 2012 Special selection by Wilfried Agricola de Cologne
artvideoKOELN
artvideoKOELN is the curatorial initiative "art & moving images" founded by Agricola de Cologne to be the holder of Cologne International Videoart Festival and responsible for the wide range of activities of CologneOFF 2011 – videoart in a global context, which again is based on a cooperation between Cologne international Videoart Festival, artvideoKOELN and Le Musee di-visioniste – the new museum of networked art.
Agricola de Cologne was launched on 1 January 2000 as an artist brand, standing for the
interdisciplinary media artist, director of experimental short films and videos, curator of media art and the designer of culture
founder & director of artvideoKOELN – the curatorial initiative, art & moving images (2010),
founder & director of CologneOFF – Cologne International Videoart Festival (2006)
founder and director of NewMediaArtProjectNetwork: the experimental platform for art and new media (2000), a global network on different virtual and physical levels
Besides for a broad bandwidth of dynamic curatorial contexts he is initiated in a physical & virtual space like the JavaMuseum (2001), NewMediaFest (2002), Violence Online Festival (2003), SoundLAB & VideoChannel (2004), CologneOFF (2006), netEX (2007). Agricola de Cologne also stands for the co-curator and co-organiser of events like festivals and exhibitions of contemporary art, but also for the jury member of divers festivals.
Since its introduction in 2000, Agricola de Cologne was represented as an artist in more than 500 festivals and media art exhibitions in New York, Chicago, London, Paris, Marseille, Madrid, Barcelona, Lisbon, Oslo, Seoul, Bangkok, New Delhi, Basel, Vienna, Linz (Ars Electronica), Graz, Kiev, Riga, Moscow, St. Petersburg, Tallinn, Tokyo, Rome, Milan, Turin, Karlsruhe (ZKM), Berlin & elsewhere, but also on Biennials like ISEA Nagoya (2002), Venice Biennale 2003, Biennale of New Media Art Merida/MX 2003, Biennale of Electronic Arts Perth, Australia (2004), Biennale de Montreal (2004), Biennale of Video & New Media Santiago de Chile (2005), ISEA Singapore 2008.
The most recent media art context "CologneOFF 2011 – videoart in a global context" travelled as a nomadic festival project during 2011 and 2012 around the globe.
The media art works received numerous prizes and awards.