How to Unlock Your Creative Goldmine
– – – – – – – – – – – –
The Masterclass Course:
Most people today suffer from information overload, and creative people feel the burn most of all. Information coming at you at the speed of light, pummeling your brain with way more facts and figures that you can possibly process. Although unlimited access to information is a blessing of the modern world, the unbridled inflow of information can shatter our creative process with constant distractions and demands for decisions that prevent us from reaching our ultimate goal.
With a few fun exercises and a couple of innovative approaches, however, not only can you keep yourself on the creative track, you can even turn these information-filled disruptions and distractions into creative fuel! In this 6-hour workshop, held over three days, we will show you how some of the world's most creative minds stay focused and creative, and then we will show you practical skills for achieving similar results.
After the tremendous successful of our first film "New York in Motion" (which we've screened at the IMF Cyprus three years ago, and at over a dozen other festivals worldwide), we've embarked on an even greater venture: "The World in Motion." For the purposes of this project we have interviewed many creative geniuses and we will share our findings about how they turn the constant stimuli they receive from their environment and cultural context from distractions to inspirations. In the hands-on part of this workshop, we will engage in interactive activities that will help you control the input your receive from your daily environment and enable you to unleash your creativity through your the activities of your daily life.
The workshop has been designed to suit the needs of both students and professionals in all the different creative professions—designers, film-makers, animators, etc.—who have to make creative decisions on a daily basis. This is an intimate workshop where we will be creating both individually and in groups, and for this reason there are only 25 places available, and we will honor a strict first-come first-served registration line.
Whether we like it or not, information isn't going anywhere. In fact, it will only keep coming at us at increasing speeds and volumes. But information doesn't have to be a block or a burden to our creativity—with a few new tricks and approaches you can turn daily information input into a creative goldmine.
The Instructors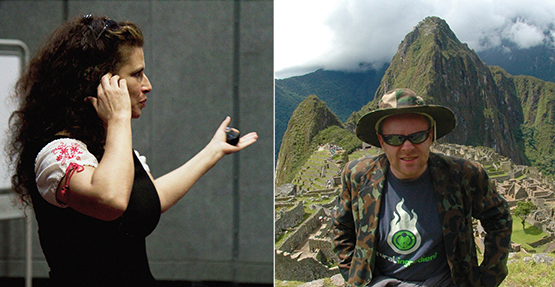 Graham Elliott designed and directed some of the first ever motion graphics at MTV, after graduating from the Royal College of Art, London. He designed rock band, Living Colour's record sleeves, directed their 'Glamour Boys' music video and designed their stage design for the tour with the Rolling Stones. 20 years later he is directing and producing commercials, music videos and documentaries. He has worked as a creative at Saatchi and Saatchi, directed commercials for Coca-Cola and music videos for Puffy in Tokyo, as well as projects in twenty plus countries. Elliott was also keynote speaker at the first 'International Motion Festival, Cyprus, 2012.
Roswitha Rodrigues is an award winning designer and brand specialist. She runs the branding agency Magical Monkey in New York City. She attended the Viennese Conservatory, UCLA and the School of Visual Arts, New York. Through her branding classes she has worked with students from over a dozen countries.
Course Details:
Availability: 25 seats ONLY, on a strict first-come first served bases
Dates: 27, 28 & 29 March 2015 (this masterclass has 3 parts)
Time: 14:30 – 16:30
Cost: €48
Payment:
Payment can be done at the festival before the masterclass starts.